---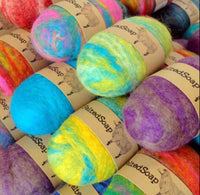 How adorable are these?! They make such great and unique gifts! Shea Butter plant based Felted soaps!
Soap to sink, tub or shower, the Felted wool is wonderful for gently exfoliating your skin with fresh and clean gender neutral scent. As the soap suds come through with each use, the wool will continue to shrink leaving you with a little scrubby you can use for household cleaning!
Made in the US and contain no artificial dyes, isethionates, betaines, parabens, phthalates or sulfates.